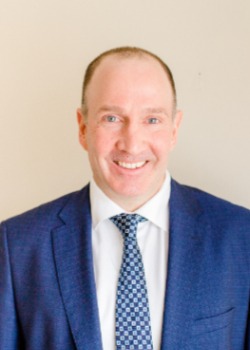 Robert obtained his Bachelor of Commerce (Hons.) from the University of Guelph in 1995 before completing his Bachelors of Laws from the University of Alberta in 1998.  After being called to the bar in Alberta, Robert returned to Ontario to practice law and was called to the Ontario Bar in 2001.  Robert specialized in commercial litigation in downtown Toronto before moving to Owen Sound with his family in 2005.
Robert practiced law in Owen Sound for seven years before working as an accountant.  He obtained his designation of CPA, CA in Ontario in 2016.  With over seventeen years of combined professional experience, Robert is able to provide an added value to clients with matters that mix financial and legal issues.  Robert also has experience in a wide range of civil  litigation and family law matters to enable him to assist clients in finding practical solutions to their issues.
Robert enjoys trail running, running marathons and spending time with his family.